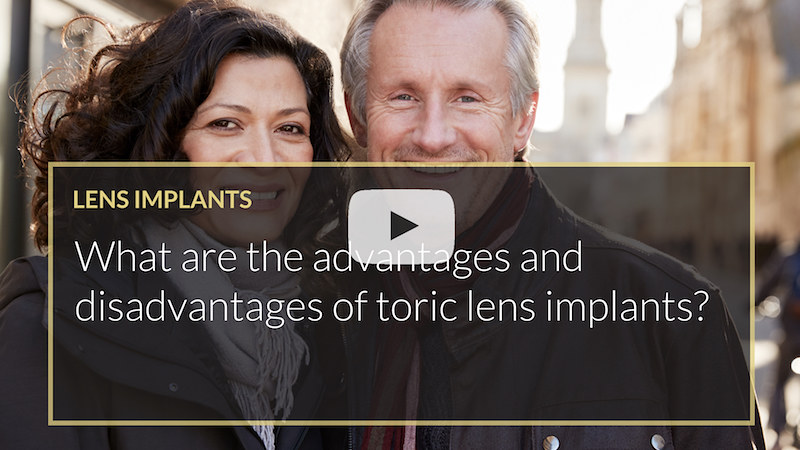 IN THIS VIDEO PROF MOHAMMED MUHTASEB DISCUSSES TORIC LENS IMPLANTS
What are the advantages and disadvantages of toric lens implants?
Toric lens implants are lenses that are implanted internally inside the eye to replace the natural lens as part of a cataract operation or as part of a refractive lens exchange operation. We use toric lens implants when a patient has astigmatism. It is very important to consider in the preoperative planning before the operation.
Many patients think that because they have astigmatism, they may not be suitable for a certain kind of lens implant or refractive lens exchange procedure. In most cases, that's not true.
Astigmatism does not preclude patients from having one of these procedures.
Patients with a significant degree of astigmatism often want to understand the implications for their vision after the surgery. They want to know what their vision will be like if they do not have astigmatism corrected, or if they do, and I often show patients the images in the video…
Don't let post-COVID cataract queues delay you from getting the treatment you need. Save your spot now with a virtual appointment
Meet online or over the phone with surgeon Prof Muhtaseb, and get a clear answer on your cataract surgery options from the comfort of your home. You'll also discover the little known possibility of fixing your reading and/or distance vision at the same as you fix your cataracts. Click the button below now to book your video or telephone appointment.
The images show the vision of a patient who does not have astigmatism, or if they have astigmatism, but it's corrected with glasses. If a patient has astigmatism, which is not corrected with glasses or a contact lens, or if they have astigmatism and choose not to have a toric lens after the surgery, the vision will look like the image in the video, unless a toric lens is used internally to correct astigmatism as part of the surgical procedure.
It's very important in the preoperative planning to assess how much astigmatism is present in the cornea and its orientation, which direction it takes in the cornea.
When a patient has a significant degree of astigmatism, it's quite clear that a toric lens would be beneficial.
However, lens implant surgery (cataract surgery or refractive lens exchange) will change the shape of the cornea and will induce or create astigmatism in the cornea. Hence, the preoperative planning has to account for the change in the eye that the surgery will produce.
It's very important, particularly in patients who have a very low degree of astigmatism before the surgery, that the change induced by the operation is accounted for. If it isn't, it's quite possible to make astigmatism worse. So you might perform a very successful technical operation, in terms of getting the cataract out and putting a lens implant in, but then actually create more astigmatism. This would mean that the patient would have more blurry vision after the surgery than they had before.
The preoperative planning is very important in order to create the best visual outcome, treat preexisting astigmatism, and certainly not make a low level of astigmatism worse after the operation.
I invite you to book a consultation to determine your suitability for refractive cataract surgery or refractive lens exchange. It's the only way to determine your suitability for these procedures and to have an in-depth discussion regarding the risks and benefits of each of them. I look forward to seeing you there and taking you through the journey to achieving your desired postoperative outcome.
Share This Story, Choose Your Platform!
ABOUT THE EXPERT
Prof Mohammed Muhtaseb, FRCOphth
Consultant Cornea, Cataract and Refractive Surgeon
iLase is the private practice of Consultant Ophthalmic Surgeon, Prof Mohammed Muhtaseb. Based in South Wales, he is one of the very few ophthalmologists working in the UK who is a fellowship-trained specialist in Cornea, Cataract and Refractive Surgery. He holds full specialist registration with the General Medical Council and was appointed as a Consultant in the NHS in 2006.