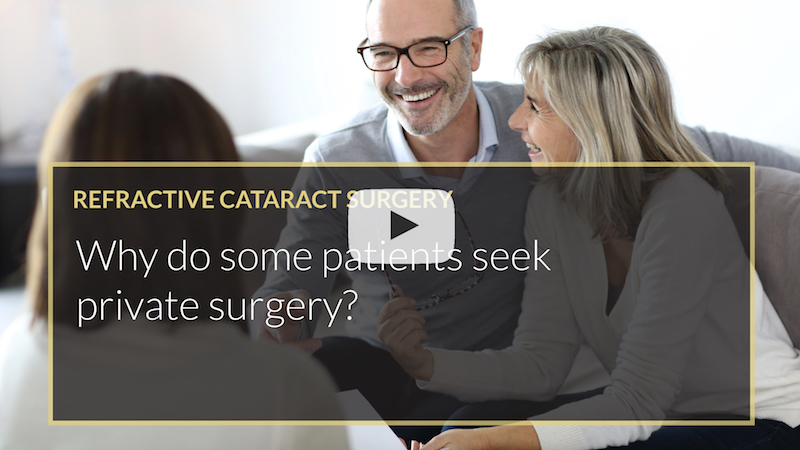 IN THIS VIDEO, PROF MOHAMMED MUHTASEB EXPLAINS THE BENEFIT OF PRIVATE SURGERY
Patients consider private surgery for several reasons, as well as the optometrists that refer patients for private surgery.
Short waiting time is a very common reason
The classic and the most common reason is that there's a much lower waiting time than there may be in another health care providing facility. However, there are also several other reasons which some optometrists and patients may not be completely aware of, and I think they are worth mentioning.
There is a choice of lens implants available
When seeking cataract surgery privately, there is a choice of lens implants available, which includes monofocal as well as multifocal lens implants, non-toric and toric lens implants, as the broad categories. Moreover, there are some other specialist lenses which may be used less commonly in specific situations.
Discover the number one mistake patients make when choosing cataract surgery
Unfortunately, most people only find this out after having cataract surgery. The information in this Wales Cataract Guide could save you frustration and worry. Simply click the button below to give us your email and we'll send you this life changing guide.
There's a range of available lens choices.
A monofocal lens implant classically does the equivalent of a single vision spectacle lens. It allows people to see in one distance, usually the far away, and then they have to have glasses for reading.
Multifocal lens implants look something like this (see video). There are other varieties and types from different manufacturers. Still, there are zones of different focal points for distance vision as well as near vision. With some multifocal lens implants, there is a middle-distance focus as well. Multifocal lenses give the ability for patients to see far as well as near without glasses most of the time. That's quite a big difference in category.
For non-toric and toric lenses, patients who do not have astigmatism will just need a standard non-toric lens, whether it's monofocal or multifocal. Patients who have astigmatism – which is an asymmetry in the shape of the cornea which can cause a degree of blurring or ghosting of the vision – would be better suited to a toric lens once we have removed the cataract. The toric lenses improve the visual quality once the surgery has been performed and allows the patient to see better without glasses than with glasses. If a patient who has astigmatism does not receive a toric lens, then they will need glasses to correct their vision all of the time.
The consultant surgeon themselves usually conducts the surgery
Another reason to consider private surgery is that the consultant surgeon themselves usually performs the preoperative assessment and conducts the surgery. There's no training program in private hospitals generally. So surgery would not normally be performed by a doctor in training. The training programs are absolutely fine, and they will be supervised, but when a patient goes to a consultant for a private operation, they know that they're choosing the surgeon. In addition, with private surgery, you have more flexibility as the timing of surgery is in your hands and will be performed by the consultant of your choice. They are broadly the main reasons that people consider having surgery privately.
I invite you to contact my practice by calling the phone number provided. We can start the process of consulting and determining your suitability for the interventions that we can provide, and hopefully get you to a point where you're achieving your outcomes and enjoying life without cataracts and without needing your glasses and contact lenses.
Share This Story, Choose Your Platform!
ABOUT THE EXPERT
Prof Mohammed Muhtaseb, FRCOphth
Consultant Cornea, Cataract and Refractive Surgeon
iLase is the private practice of Consultant Ophthalmic Surgeon, Prof Mohammed Muhtaseb. Based in South Wales, he is one of the very few ophthalmologists working in the UK who is a fellowship-trained specialist in Cornea, Cataract and Refractive Surgery. He holds full specialist registration with the General Medical Council and was appointed as a Consultant in the NHS in 2006.