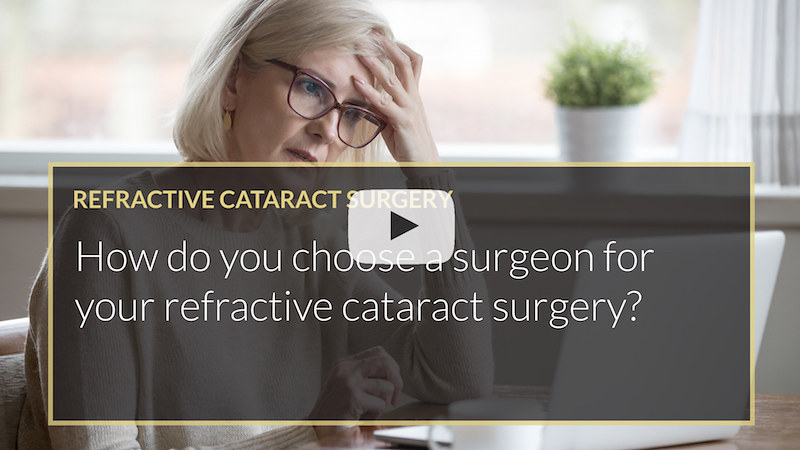 IN THIS VIDEO PROF MOHAMMED MUHTASEB EXPLAINS HOW TO CHOOSE A SURGEON
Choosing a surgeon for any intervention is a very important decision. I think it's crucial for a patient to feel comfortable with a surgeon, that they establish a rapport, and that they trust that surgeon.
A good surgeon takes the time to listen and inform
This is a journey, and it's essential that the patient feels that they've been listened to. Their problems have been taken on board and assimilated by their surgeon, and they've been given all the reasonable and appropriate options to make a choice regarding the timing and type of intervention that they're going to receive…
Discover the number one mistake patients make when choosing cataract surgery
Unfortunately, most people only find this out after having cataract surgery. The information in this Wales Cataract Guide could save you frustration and worry. Simply click the button below to give us your email and we'll send you this life changing guide.
Get all your questions answered – even the uncomfortable ones
When a patient decides to have a refractive cataract surgical procedure and goes past the element of trust, it's perfectly reasonable for them to ask specific questions of a surgeon. For example, there are national benchmarks for safety regarding refractive cataract surgery.
I have patients that ask me how many surgical procedures I've performed and what my personal safety parameters are. Sometimes they ask that with a bit of embarrassment and they apologize. However, there's no apology needed. I think it's a perfectly reasonable question to ask.
Put your safety in the hands of an experienced expert
I'm happy to tell them that over a career spanning more than 22 years to date, I've performed thousands upon thousands of these interventions and that my safety rates are over and above the national benchmarks.
My safety numbers are better than national averages.
Know all of your options regardless of the surgeon's available procedures
It's reasonable for a patient to make sure that the surgeon performing their procedure advises them about the range of interventions that are available to them, whether or not that surgeon performs them. They should have all of the information before they proceed with an intervention.
And if they want to have something done that a certain surgeon doesn't perform, they can ask for a referral. Specific information regarding choice, outcome parameters, and that kind of thing are very important.
I invite you to book a consultation to determine your suitability for refractive cataract surgery or refractive lens exchange. It's the only way to determine your suitability for these procedures and to have an in-depth discussion regarding the risks and benefits of each of them. I look forward to seeing you there and taking you through the journey to achieving your desired postoperative outcome.
Share This Story, Choose Your Platform!
ABOUT THE EXPERT
Prof Mohammed Muhtaseb, FRCOphth
Consultant Cornea, Cataract and Refractive Surgeon
iLase is the private practice of Consultant Ophthalmic Surgeon, Prof Mohammed Muhtaseb. Based in South Wales, he is one of the very few ophthalmologists working in the UK who is a fellowship-trained specialist in Cornea, Cataract and Refractive Surgery. He holds full specialist registration with the General Medical Council and was appointed as a Consultant in the NHS in 2006.