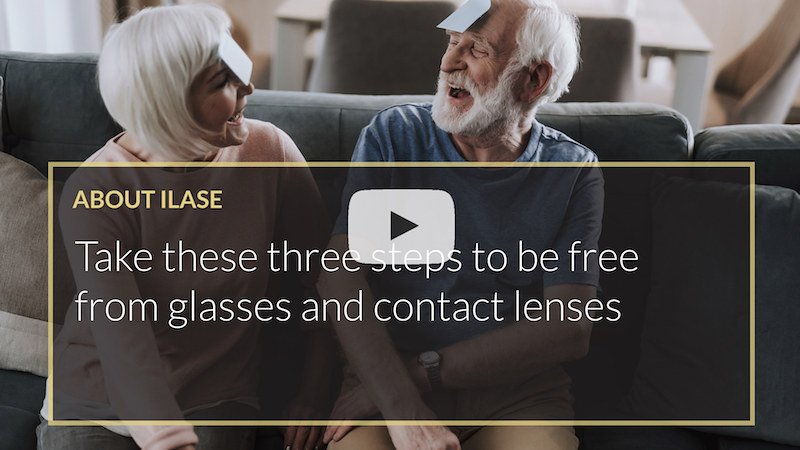 IN THIS VIDEO, PROF MOHAMMED MUHTASEB EXPLAINS HOW TO HAVE CLEAR VISION WITHOUT GLASSES OR CONTACT LENSES
Take these steps to be free from glasses and contact lenses
The process of having treatment under my care in the private clinic is really very straightforward indeed.
Step 1: Contact us
The first thing is to get in touch with us – that can be done in a number of ways. The easiest thing to do would be to call the dedicated phone number (02922 550 201) which brings you straight through to my PA without going through hospitals, switchboards and so on. You can email us, or your optometrist or GP can send us a letter. Because we're dealing with eyes, the most common referral source is from your optometrist. If your optometrist has found that you have a cataract or you yourself want to get advice regarding a refractive surgical procedure, then your optometrist can get in touch. So phone us, email us, or ask your optometrist to get in touch on your behalf. We'll then book an appointment for you at a date and location that suits you.
Step 2: Get a consultation
My PA will give you a range of options and you can tell her which is the one that suits you best. We can then meet for the first time at the consultation, and I can get a really thorough understanding of your symptoms, the things that have troubled you and brought you to the clinic in the first place, and what your requirements are for the end of the treatment process. There'll be plenty of time for discussion and questions and answers, and only when you're completely satisfied with the answers to the questions and the management plan that we've agreed together will we press on to the final stage.
Take the first step to understand your unique cataract surgery options
Most people have cataract surgery without knowing about all the options they actually have surrounding cataract surgery. Did you know it is not only possible to fix your cataracts but you can often fix your reading and distance vision at the same time? Click the button below to request a personal consultation and get clear on all of your options.
Step 3: Treatment, recovery and happiness
The final step in your vision correction journey is to choose your lens implant, I can treat you and hopefully get you back to enjoying everything that you want to enjoy about life as quickly as possible. I think it's very important that anyone considering cataract surgery or refractive lens exchange surgery is aware of the number one mistake that people make before they have the surgical intervention. And it's a mistake that people only know about really once the procedure has been completed.
The information in this Wales Cataract Guide could save you frustration and worry. Simply click here, give us your email and we'll send you this life-changing guide.
Alternatively, book a consultation to determine your suitability for refractive cataract surgery or refractive lens exchange. It's the only way to determine your suitability for these procedures and to have an in-depth discussion regarding the risks and benefits of each of them. I look forward to seeing you there and taking you through the journey to achieving your desired postoperative outcome.
Share This Story, Choose Your Platform!
ABOUT THE EXPERT
Prof Mohammed Muhtaseb, FRCOphth
Consultant Cornea, Cataract and Refractive Surgeon
iLase is the private practice of Consultant Ophthalmic Surgeon, Prof Mohammed Muhtaseb. Based in South Wales, he is one of the very few ophthalmologists working in the UK who is a fellowship-trained specialist in Cornea, Cataract and Refractive Surgery. He holds full specialist registration with the General Medical Council and was appointed as a Consultant in the NHS in 2006.