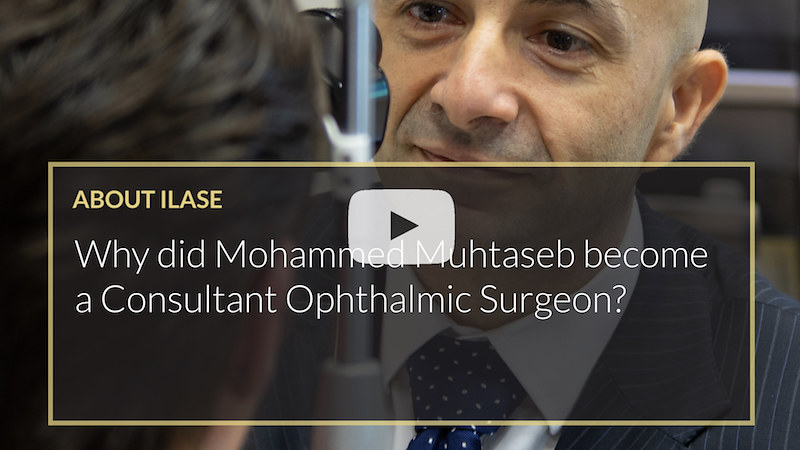 IN THIS VIDEO, PROF MOHAMMED MUHTASEB DISCUSSES WHY HE BECAME A CONSULTANT OPHTHALMIC SURGEON
Why did Mohammed Muhtaseb become a consultant ophthalmic surgeon?
Why do I do what I do? I feel very lucky to be in this profession as an ophthalmologist, and particularly as an anterior segment and cataract surgeon. This entails looking after the front of the eye, corneal transplants and doing cataract surgery. It's incredibly rewarding.
The impact of cataracts on patients' lives can be quite severe in terms of losing the ability to drive and losing the ability to perform hobbies and leisure interests.
People feel restricted, lack confidence, and feel less able to do the things that other people depend on them for like taking people to hospital appointments and doing shopping.
When people come to see me, even if they haven't got a cataract, they can feel restricted by their need for glasses and contact lenses. For example, when they go out walking in the countryside and it rains, they can't see through their glasses. Or, when they're undertaking sporting activities. Or, they can't swim with the contact lenses in — they feel very restricted.
Changing lives
What I can do is provide advice and surgical interventions to change their life around completely. Once my patients have had the surgical intervention, be it a cataract operation or refractive lens exchange procedure, the change in the appearance of their face and how they feel is incredibly rewarding.
People are happy; they're wearing vibrant colours again. They come and tell me that they're back to playing golf and driving and fulfilling their family members. That's incredibly rewarding on a personal level.
Understanding the requirements of a patient is very, very important.
From my perspective as a surgeon, I find the whole process, from first meeting a patient all the way through to finally shaking hands with a very happy patient and discharging them, very rewarding. It's a technical challenge because firstly, understanding the requirements of a patient is very, very important. I even consider what distance they hold reading material, where their computer is, the environment in which they read, is it dim or is it light? All of these things affect the kind of operation I do and the lens implant I recommend.
Take the first step to understand your unique cataract surgery options
Most people have cataract surgery without knowing about all the options they actually have surrounding cataract surgery. Did you know it is not only possible to fix your cataracts but you can often fix your reading and distance vision at the same time? Click the button below to request a personal consultation and get clear on all of your options.
Getting the outcome right
Understanding the patient's symptoms and requirements is crucial. There's the technical aspects of recording and measuring the data required to plan the surgery, and deciding which additional data and tests would really benefit the patient. I then decide which kind of lens calculation formula is most appropriate for the patient. Classic examples would be patients who have particularly long eyes or small eyes, those who are long-sighted or shortsighted, or those who have undergone a previous laser refractive surgical procedure, such as LASIK or LASEK. These can pose quite significant challenges to the lens calculations and getting those calculations absolutely right. 
Assessing for any preexisting levels of astigmatism, whether they're high or low, and incorporating an adjustment for the level of astigmatism on the inner surface as well as the front surface of the cornea is also important. So, all of these technical aspects are crucial in preoperative planning and getting the outcome right for the patient.
Enjoying the challenge
After this, it's time to execute. This involves the technical challenge of performing the procedure with minimal impact on the eye itself. Producing minimal energy inside the eye so that the recovery is as fast as possible and patients can get back to their normal life with better vision is very important.
The whole process, from beginning to end, from a challenging technical point of view, I find very stimulating. But ultimately, the job is about the patient and achieving these outcomes:
Meeting the patient for the first time

Producing what they want

Seeing happy people afterwards
I invite you to contact my practice by calling the phone number provided. We can start the process of consulting and determining your suitability for the interventions that I provide, and hopefully, get you to a point where you're enjoying life without cataract and without needing your glasses and contact lenses.
Share This Story, Choose Your Platform!
ABOUT THE EXPERT
Prof Mohammed Muhtaseb, FRCOphth
Consultant Cornea, Cataract and Refractive Surgeon
iLase is the private practice of Consultant Ophthalmic Surgeon, Prof Mohammed Muhtaseb. Based in South Wales, he is one of the very few ophthalmologists working in the UK who is a fellowship-trained specialist in Cornea, Cataract and Refractive Surgery. He holds full specialist registration with the General Medical Council and was appointed as a Consultant in the NHS in 2006.