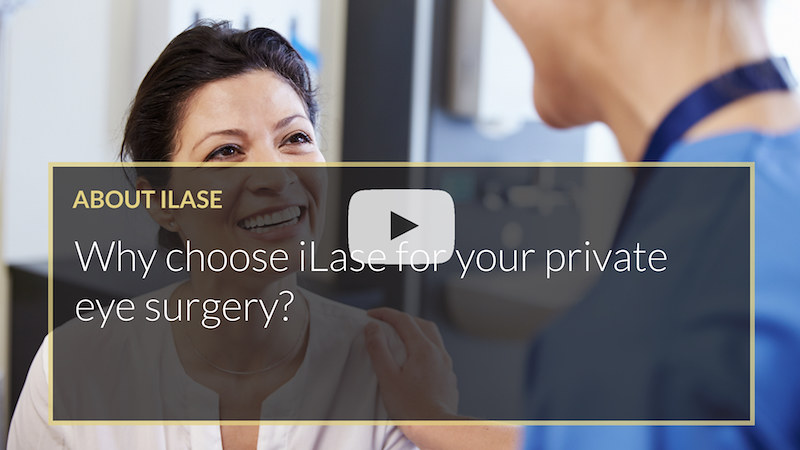 IN THIS VIDEO PROF MOHAMMED MUHTASEB DISCUSSES THE ADVANTAGES OF iLASE
Why choose iLase for your private eye surgery?
This is a really important question, but it's a question that's almost impossible to answer without sounding completely cliched, and that's something that I don't want to do.
Any patient listening to a consultant answering this question would expect the consultant to say that they're fully trained; they are registered with the GMC; they listen carefully to their patients; they treat each one as an individual and deliver the best care possible. That's what you'd expect any surgeon to say.
Ultimately, it's really important that a surgeon and a patient establish a rapport with each other and that the patient trusts the surgeon to deliver the outcome that the patient's expecting.
A safety protocol that improves safety outcomes
In terms of my practice, I have implemented a safety protocol that I developed as a trainee doctor, as a registrar, to do with cataract risk stratification and risk scoring. That system was developed by myself in my training days in London and is published and used by various centres in different countries around the world. I implement that as part of my practice to mitigate risks and improve safety outcomes. That is an important part of my practice, which I take a lot of pride in.
Discover the number one mistake patients make when choosing cataract surgery
Most people have cataract surgery without knowing about all the options they actually have surrounding cataract surgery. Unfortunately, most people only find this out after having cataract surgery. The information in this Wales Cataract Guide could save you frustration and worry. Simply click the button below to give us your email and we'll send you this life changing guide:
A skilled and experienced surgeon who others trust
I could spend a lot of time saying that I've done lots of clinical research and published outcomes of multifocal toric lens implants, astigmatism grades, the outcomes of toric lens implants. I take referrals from other consultants to treat complex cases, and cataract patients that my colleagues feel are best-taken care of under my practice.
Our patients are our best promoters
I perform lots of extra tests whenever they are needed, for example, on patients who've had laser refractive surgery in the past. We use state of the art equipment, and we deliver the best possible care. I think that the best reasons for choosing my practice come from the patients that I've treated before. Prospective patients can listen to what my previous patients have said on other locations online and on the website.
I invite you to contact my practice by calling the phone number provided. We can start the process of consulting and determining your suitability for the interventions that we can provide, and hopefully get you to a point where you're achieving your outcomes and enjoying life without cataract and without needing your glasses and contact lenses.
Share This Story, Choose Your Platform!
ABOUT THE EXPERT
Prof Mohammed Muhtaseb, FRCOphth
Consultant Cornea, Cataract and Refractive Surgeon
iLase is the private practice of Consultant Ophthalmic Surgeon, Prof Mohammed Muhtaseb. Based in South Wales, he is one of the very few ophthalmologists working in the UK who is a fellowship-trained specialist in Cornea, Cataract and Refractive Surgery. He holds full specialist registration with the General Medical Council and was appointed as a Consultant in the NHS in 2006.