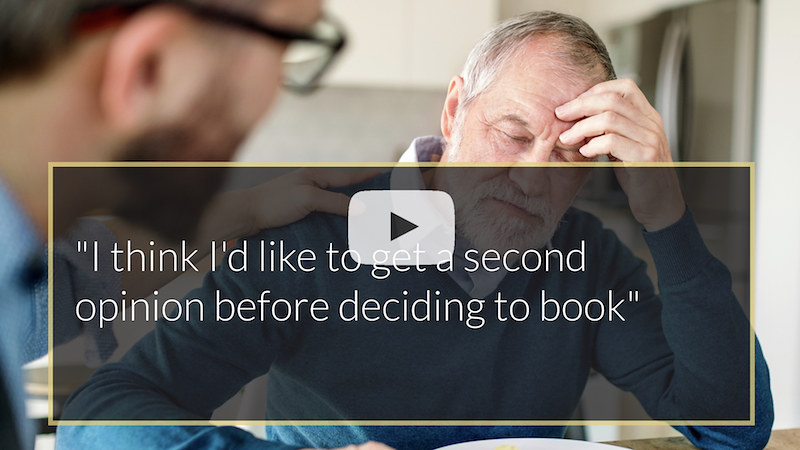 IN THIS VIDEO, PROF MOHAMMED MUHTASEB EXPLAINS THE IMPORTANCE OF MAKING THE RIGHT DECISION
"I'd like to get a second opinion before deciding to book"
I see patients for consultations who have previously seen either other consultant ophthalmologists, or some of the high street multiple chains that you would have heard of. They come to me for a second or third opinion, and sometimes patients see me initially and say that they would like to consult with other ophthalmologists. That is perfectly reasonable, and I think comforting for patients to see more than one person, to make sure that they're making the right decision. 
Suppose a patient would like a second opinion after consulting with me. In that case, I'm perfectly happy to provide the names of appropriate colleagues anywhere in the UK. Otherwise, patients are welcome to seek second opinions or come and see me for a second or third opinion.
If you'd like me to provide you with a second opinion, or would like to know more about a particular procedure, I invite you to book a consultation. Here we can have an in-depth discussion regarding your particular motivations and concerns and I can give you all of the information you need.
I look forward to seeing you there and guiding you through the journey to achieving your desired postoperative outcome.
Share This Story, Choose Your Platform!
ABOUT THE EXPERT
Prof Mohammed Muhtaseb, FRCOphth
Consultant Cornea, Cataract and Refractive Surgeon
iLase is the private practice of Consultant Ophthalmic Surgeon, Prof Mohammed Muhtaseb. Based in South Wales, he is one of the very few ophthalmologists working in the UK who is a fellowship-trained specialist in Cornea, Cataract and Refractive Surgery. He holds full specialist registration with the General Medical Council and was appointed as a Consultant in the NHS in 2006.