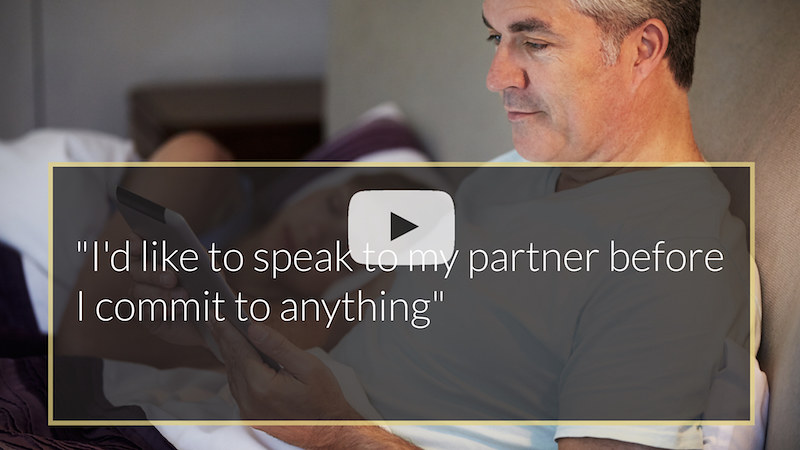 IN THIS VIDEO, PROF MOHAMMED MUHTASEB ENCOURAGES PATIENTS TO DISCUSS THEIR OPTIONS WITH LOVED ONES AND VOICE ANY CONCERNS
"I'd like to speak to my partner before I commit to anything"
Patients will sometimes say at the end of the consultation that they wish to talk to their partners, family members or friends who have had surgical procedures in the past. I think that is absolutely commendable, and is, in my opinion, an essential part of the process of considering whether to proceed to the next step and have a surgical intervention.
Patients are very welcome to bring along family members, friends or anybody else to the consultation. Once they've had a chance to discuss their options with family and friends, they are welcome to come along for a further visit to get clarification or ask more questions.
Take the first step to understand your unique cataract surgery options
Most people don't get given information about all the options they actually have surrounding cataract surgery. Did you know it is not only possible to fix your cataracts but you can often fix your reading and/or distance vision at the same time? Click the button below to request a personal consultation and get clear on all of your options.
After the first consultation, I provide a written summary of our discussion. Still, patients are welcome to get in touch again and attend for further consultations if they would like to.
If you'd like to know more about a particular procedure, I invite you to book a consultation. Here we can have an in-depth discussion regarding your particular concerns, and I can give you all of the information you need. 
I look forward to seeing you there and guiding you through the journey to achieving your desired postoperative outcome.
Share This Story, Choose Your Platform!
ABOUT THE EXPERT
Prof Mohammed Muhtaseb, FRCOphth
Consultant Cornea, Cataract and Refractive Surgeon
iLase is the private practice of Consultant Ophthalmic Surgeon, Prof Mohammed Muhtaseb. Based in South Wales, he is one of the very few ophthalmologists working in the UK who is a fellowship-trained specialist in Cornea, Cataract and Refractive Surgery. He holds full specialist registration with the General Medical Council and was appointed as a Consultant in the NHS in 2006.