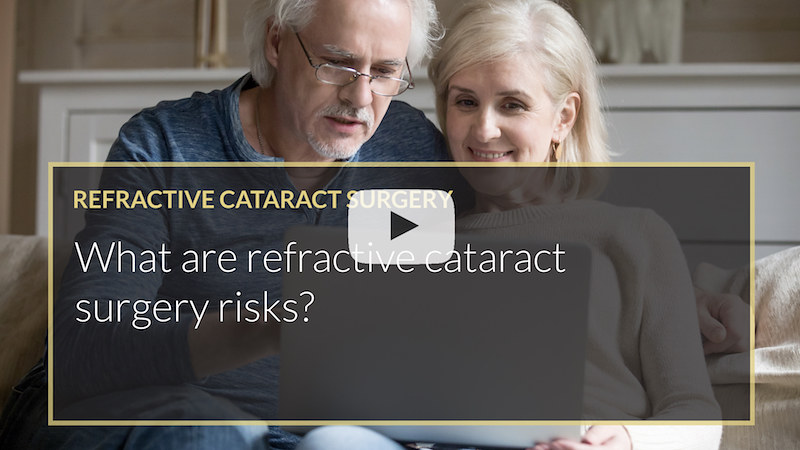 PROF MOHAMMED MUHTASEB SPEAKS ABOUT THE REFRACTIVE CATARACT SURGERY RISKS
What are refractive cataract surgery risks?
The question regarding risks is very important, and any surgical procedure carries with it a degree of risk.
Cataract surgery is amongst the most successful of surgical procedures, and the vast majority of patients have no issues at all after the surgery.
There is a small risk associated with cataract surgery and refractive lens exchange. The quoted figures indicate a 1 – 2% chance of something unexpected or unwanted happening during or after the surgery. I explain those in detail at the consultation.
Some patients will have specific risks that are relevant to their distinct scenario. These risks are often identified during the examination. They typically involve the cornea or previous ophthalmic history; for example, the patient may have had other medical conditions of the eye in the past, or had surgical procedures to the eye. This includes LASIK, for example, where the lens calculations need to be a little bit more specific…
Discover the number one mistake patients make when choosing cataract surgery
Unfortunately, most people only find this out after having cataract surgery. The information in this Wales Cataract Guide could save you frustration and worry. Simply click the button below to give us your email and we'll send you this life changing guide.
People who are particularly longsighted or shortsighted may have eyes that are bigger than average or smaller than average, and they have specific risks. I discuss those in detail with the patients and give them as much time as needed to answer questions that they may have. I also give patients written information to take home.
Some patients decide that they want to come back for further consultation after having considered our consultation discussion. If a patient wants to come in for a further consultation to discuss certain aspects of the risk versus benefit equation, then that's absolutely fine, they're welcome to do that. Any surgery carries some degree of risk, but this particular procedure is generally considered a very safe intervention.
I invite you to book a consultation to determine your suitability for refractive cataract surgery or refractive lens exchange. It's the only way to determine your suitability for these procedures and to have an in-depth discussion regarding the risks and benefits of each of them. I look forward to seeing you there and taking you through the journey to achieving your desired postoperative outcome.
Share This Story, Choose Your Platform!
ABOUT THE EXPERT
Prof Mohammed Muhtaseb, FRCOphth
Consultant Cornea, Cataract and Refractive Surgeon
iLase is the private practice of Consultant Ophthalmic Surgeon, Prof Mohammed Muhtaseb. Based in South Wales, he is one of the very few ophthalmologists working in the UK who is a fellowship-trained specialist in Cornea, Cataract and Refractive Surgery. He holds full specialist registration with the General Medical Council and was appointed as a Consultant in the NHS in 2006.