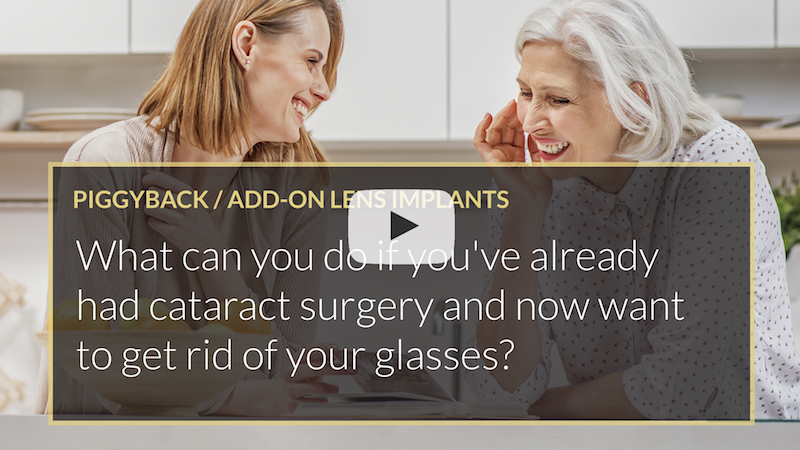 IN THIS VIDEO PROF MOHAMMED MUHTASEB SPEAKS ABOUT PATIENTS WHO'VE ALREADY HAD CATARACT SURGERY
What can you do if you've already had cataract surgery and now want to get rid of your glasses?
Patients do come along to me, sometimes having had a cataract surgical procedure somewhere else and received a monofocal lens implant as part of standard routine operation and achieved what was planned before the surgery.
That is if the cataract is out, a monofocal lens has been implanted and, on some occasions, the patient can see clearly in the distance without glasses, but has glasses for reading. On other occasions, there still remains a small degree of spectacle prescription so that they need glasses for distance and reading.
Patients will come to me and say, they don't want to be so dependent on glasses. What can we do? Can we exchange the first lens and put a multifocal lens in its place?
Well, a lens exchange operation carries a very significant degree of risk, and it's not something that I would want to undertake as a first intervention. But patients are quite frequently very surprised to hear of a procedure called a piggyback or add-on lens implant…
Take the first step to understand your unique cataract surgery options
Most people have cataract surgery without knowing about all the options they actually have surrounding cataract surgery. Did you know it is not only possible to fix your cataracts but you can often fix your reading and distance vision at the same time? Click the button below to request a personal consultation and get clear on all of your options.
How do you benefit from piggyback lenses?
Piggyback or add-on lenses are very thin, slender lenses, which are designed to be implanted in front of the first lens that was implanted in the eye. Add-on lenses or piggyback lenses can be monofocal or multifocal. Mostly a patient will want the multifocality that can be afforded to them from a multifocal piggyback lens so that they improve their distance vision and achieve the close-up vision. They can read without glasses and go shopping and look at prices and ingredients and that kind of thing without having to look for a pair of glasses.
The concept of the piggyback lens
The concept of a piggyback or add-on lens can sometimes be difficult to comprehend because some degree of anatomy knowledge helps, but that's really for me, not for the patient. I use models to help explain to the patient what happens.
This is a standard monofocal lens, and you can see that it looks the same everywhere on the lens. I show this to a patient, and I'll say to them that this lens is what's implanted where the cataract has been removed.
This is a multifocal lens, and it's one particular shape and design. There are others, and so we choose the one that suits the patient. It is particularly designed to go where the cataract has been removed as a primary procedure, but it can be manufactured as a piggyback or add-on lens.
How does the procedure work?
What happens is the patient will come along having had a standard monofocal lens, such as this, implanted as part of their cataract procedure. What I can do after that is take a multifocal piggyback add-on lens and slide that in front. When the patient is looking out into the big wide world, the light is coming into the eye through the multifocal piggyback lens and through the monofocal lens and focusing on the retina.
They get the multifocality added on to the monofocality that they had previously. That's an excellent outcome, which is very rewarding and makes patients very happy indeed.
I invite you to contact my practice by calling the phone number provided. We can start the process of consulting and determining your suitability for the interventions that we can provide, and hopefully get you to a point where you're achieving your outcomes and enjoying life without cataract and without needing your glasses and contact lenses.
Share This Story, Choose Your Platform!
ABOUT THE EXPERT
Prof Mohammed Muhtaseb, FRCOphth
Consultant Cornea, Cataract and Refractive Surgeon
iLase is the private practice of Consultant Ophthalmic Surgeon, Prof Mohammed Muhtaseb. Based in South Wales, he is one of the very few ophthalmologists working in the UK who is a fellowship-trained specialist in Cornea, Cataract and Refractive Surgery. He holds full specialist registration with the General Medical Council and was appointed as a Consultant in the NHS in 2006.