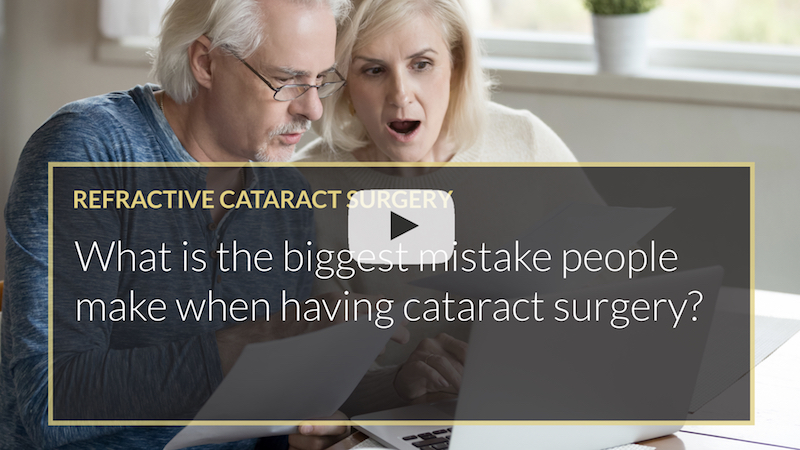 IN THIS VIDEO, PROF MOHAMMED MUHTASEB REVEALS THE BIGGEST MISTAKE PEOPLE OFTEN MAKE WHEN HAVING CATARACT SURGERY
What is the biggest mistake people make when having cataract surgery?
When a patient considers having refractive cataract surgery, I must first inform them of all of their options to avoid any regret afterwards. In particular, patients must know that their options are not limited to just simple mono-focal lens implants. These lenses will allow them to see in the distance but will mean they are dependent on glasses for reading and looking at the computer. They need to know that there are multifocal lenses out. These lenses would give them the ability to see distance, read and look at the computer and watch TV in most conditions without glasses.
Take the first step to understand your unique cataract surgery options
Most people don't get given information about all the options they actually have surrounding cataract surgery. Did you know it is not only possible to fix your cataracts but you can often fix your reading and/or distance vision at the same time? Click the button below to request a personal consultation and get clear on all of your options.
We can correct astigmatism as part of the cataract surgical procedure.
As long as the surgeon performs the patients preoperative planning and assessment properly, we can choose a toric monofocal or multifocal lens to address astigmatism and enable the patient to see in the distance, near and middle-ranges, without glasses. 
Knowing all your options beforehand, even if you discard them and decide to go for a standard monofocal non-toric lens avoids regret afterwards. One of the worst things is for a patient say, "Oh, I wish I had known about this other option before my surgery. What can you do to fix it?"
I invite you to book a consultation to determine your suitability for refractive cataract surgery or refractive lens exchange. It's the only way to determine your suitability for these procedures and to have an in-depth discussion regarding the risks and benefits of each of them. I look forward to seeing you there and taking you through the journey to achieving your desired postoperative outcome.
Share This Story, Choose Your Platform!
ABOUT THE EXPERT
Prof Mohammed Muhtaseb, FRCOphth
Consultant Cornea, Cataract and Refractive Surgeon
iLase is the private practice of Consultant Ophthalmic Surgeon, Prof Mohammed Muhtaseb. Based in South Wales, he is one of the very few ophthalmologists working in the UK who is a fellowship-trained specialist in Cornea, Cataract and Refractive Surgery. He holds full specialist registration with the General Medical Council and was appointed as a Consultant in the NHS in 2006.