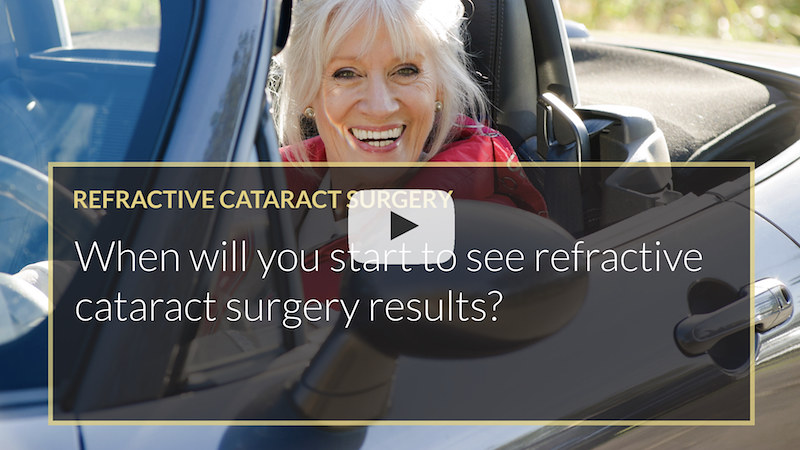 IN THIS VIDEO PROF MOHAMMED MUHTASEB DISCUSSES WHEN YOU'LL START TO SEE CATARACT SURGERY RESULTS
When will you start to see refractive cataract surgery results?
People tend to notice the visual improvement after refractive cataract surgery very quickly, within a very small number of days. It's quite common for the vision to be a little blurry on the day of surgery, and then the day after the vision starts to improve gradually on a day-by-day basis.
Patients tend to notice a very significant improvement in the quality of their vision over and above their pre-operative vision within a very small number of days, and some people report back to me that they're back to driving within three or four days.
People must make sure that they fall within the driving standard, the legal requirements of the driving standard that is before they get back to driving. Still, patients do tell me that they're fulfilling their normal daily activities and their hobbies and leisure interests within a small number of days.
I invite you to book a consultation to determine your suitability for refractive cataract surgery or refractive lens exchange. It's the only way to determine your suitability for these procedures and to have an in-depth discussion regarding the risks and benefits of each of them. I look forward to seeing you there and taking you through the journey to achieving your desired postoperative outcome.
Share This Story, Choose Your Platform!
Discover the number one mistake patients make when choosing cataract surgery
Most people have cataract surgery without knowing about all the options they actually have surrounding cataract surgery. Unfortunately, most people only find this out after having cataract surgery. The information in this Wales Cataract Guide could save you frustration and worry. Simply click the button below to give us your email and we'll send you this life changing guide:
ABOUT THE EXPERT
Prof Mohammed Muhtaseb, FRCOphth
Consultant Cornea, Cataract and Refractive Surgeon
iLase is the private practice of Consultant Ophthalmic Surgeon, Prof Mohammed Muhtaseb. Based in South Wales, he is one of the very few ophthalmologists working in the UK who is a fellowship-trained specialist in Cornea, Cataract and Refractive Surgery. He holds full specialist registration with the General Medical Council and was appointed as a Consultant in the NHS in 2006.