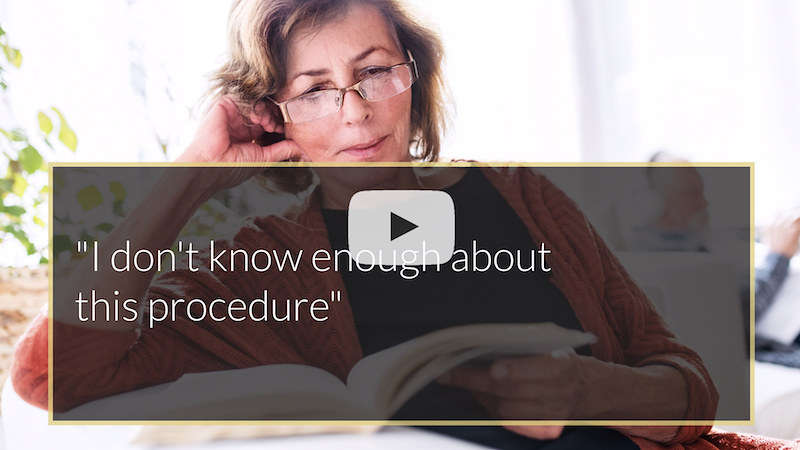 IN THIS VIDEO, PROF MOHAMMED MUHTASEB TALKS ABOUT MAKING HIS PATIENTS FEEL COMFORTABLE AND WELL-INFORMED ABOUT THEIR SURGERY
"I don't know enough about this procedure"
Some patients who consult me regarding refractive cataract surgery, refractive lens exchange, or a wide range of other conditions, require a very detailed level of knowledge regarding the procedure, the lens implants, and the outcomes. 
I'm very happy to provide as much detail as is required to ensure that the patient is comfortable with the information they've acquired by the end of the consultation to make their decision to proceed with surgery or not. 
Discover the number one mistake patients make when choosing cataract surgery
Most people have cataract surgery without knowing about all the options they actually have surrounding cataract surgery. Unfortunately, most people only find this out after having cataract surgery. The information in this Wales Cataract Guide could save you frustration and worry. Simply click the button below to give us your email and we'll send you this life changing guide:
Patients will often require very detailed information regarding the different kinds of lens implants that we offer, why we're making specific recommendations, and before we get to that stage, why we're requesting additional non-routine tests. These discussions are routine in my practice, and I'm very happy to have these at the first consultation or further consultations if required by the patient or their family before proceeding with surgical interventions.
If you'd like to know more about a particular procedure, I invite you to book a consultation. Here we can have an in-depth discussion regarding your particular concerns and I can give you all of the information you need.
I look forward to seeing you there and guiding you through the journey to achieving your desired postoperative outcome.
Share This Story, Choose Your Platform!
ABOUT THE EXPERT
Prof Mohammed Muhtaseb, FRCOphth
Consultant Cornea, Cataract and Refractive Surgeon
iLase is the private practice of Consultant Ophthalmic Surgeon, Prof Mohammed Muhtaseb. Based in South Wales, he is one of the very few ophthalmologists working in the UK who is a fellowship-trained specialist in Cornea, Cataract and Refractive Surgery. He holds full specialist registration with the General Medical Council and was appointed as a Consultant in the NHS in 2006.