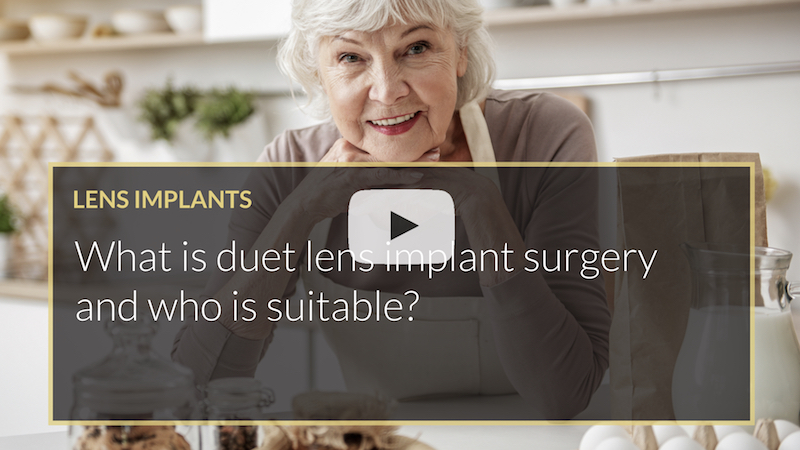 IN THIS VIDEO, PROF MOHAMMED MUHTASEB SHARES WHAT DUET LENS IMPLANTS ARE AND WHO IS SUITABLE
What is duet lens implant surgery, and who is suitable for it?
Duet lens implant surgery is an excellent option for patients who want to be able to see a range of distances but who are not suitable for multifocal lenses. This may be because they aren't sure whether they would tolerate the small chance of experiencing halos or glare from light sources after the surgery, or if they have a family history of a medical condition that could manifest in the future. If that medical condition had been present at the initial consultation, we would possibly have precluded them from having a multifocal lens implant operation.
An example might be glaucoma. If a patient has glaucoma, then it would not be a good idea to use a multifocal lens implant to replace a cataract. However, if a patient does not have glaucoma but perhaps has a family history or is concerned about what could happen to the eye in the future, they may want the reversibility of a multifocal lens. Still, without the significant risks involved in exchanging a primary lens, then a duet operation would be something worth considering.
Take the first step to understand your unique cataract surgery options
Most people don't get given information about all the options they actually have surrounding cataract surgery. Did you know it is not only possible to fix your cataracts but you can often fix your reading and/or distance vision at the same time? Click the button below to request a personal consultation and get clear on all of your options.
A duet operation works by using a monofocal lens implant to replace the cataract or the natural lens of the eye if it is a refractive lens exchange operation. A monofocal lens looks like this (see video) with the same power across the lens. Therefore, that lens will be implanted in the place of the natural lens and supported by the transparent skin (the capsular bag that supports the natural lens of the eye.
To be able to see a range of distances, I use a piggyback lens with multifocal zones. A piggyback lens is specifically designed to sit in front of the lens capsule in an area called the sulcus. Therefore, the piggyback lens is implanted just in front of the first lens during the same operation as having had the cataract surgery or the refractive lens exchange operation. When the light comes into the eye, it goes through the multifocal lens and the monofocal lens to focus on the retina. 
Suppose something were to happen in the future, which meant this eye should no longer be multifocal, we could simply remove the multifocal lens. This procedure has significantly fewer risks involved than would have been the case when exchanging a multifocal lens from within the capsular bag.
To conclude, a duet surgery is a very nice option for people who are unsure whether a primary multifocal lens would be a good idea for them or If I feel that there's a slight doubt as to the suitability of a primary multifocal lens.
I invite you to book a consultation to determine your suitability for refractive cataract surgery or refractive lens exchange. It's the only way to determine your suitability for these procedures and to have an in-depth discussion regarding the risks and benefits of each of them. I look forward to seeing you there and taking you through the journey to achieving your desired postoperative outcome.
Share This Story, Choose Your Platform!
ABOUT THE EXPERT
Prof Mohammed Muhtaseb, FRCOphth
Consultant Cornea, Cataract and Refractive Surgeon
iLase is the private practice of Consultant Ophthalmic Surgeon, Prof Mohammed Muhtaseb. Based in South Wales, he is one of the very few ophthalmologists working in the UK who is a fellowship-trained specialist in Cornea, Cataract and Refractive Surgery. He holds full specialist registration with the General Medical Council and was appointed as a Consultant in the NHS in 2006.