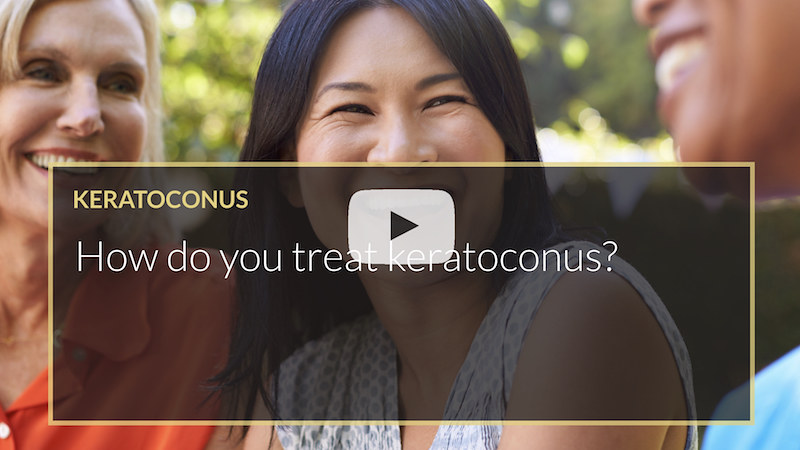 IN THIS VIDEO PROF MOHAMMED MUHTASEB DISCUSSES KERATOCONUS TREATMENT
How do you treat Keratoconus?
Keratoconus is a condition in which the cornea, the clear window at the front of the eye, becomes conical and distorted rather than being spherical. The treatment is aimed at doing two things. To improve division and to improve the strength and stability of the cornea. This reduces the chance that it continues to become distorted over the years.
Improving the vision with glasses and contact lenses
For the first line, we improve the vision using either glasses or contact lenses, particularly specialist keratoconic contact lenses which are designed to fit a slightly distorted cornea. If glasses or contact lenses no longer work or provide sufficiently improved vision, it's possible to try and improve the corneal shape to some degree with the implantation of intracorneal ring segments. Those segments are designed to allow an optometrist or a contact lens practitioner to fit a specialist keratoconus contact lens more successfully than would have been the case before the rings were implanted. They're not designed to give wonderful unaided vision.
Take the first step to understand your unique cataract surgery options
Most people don't get given information about all the options they actually have surrounding cataract surgery. Did you know it is not only possible to fix your cataracts but you can often fix your reading and/or distance vision at the same time? Click the button below to request a personal consultation and get clear on all of your options.
Intracranial segments or corneal transplant operation
If glasses and contact lenses don't work, we then progress to intracranial ring segments. If that intervention doesn't produce a sufficiently satisfactory outcome, then it's possible to have a corneal transplant operation where we remove the distorted or scarred cornea and put a donor disc in its place. They are the treatments to improve vision.
Corneal collagen crosslinking to strengthen the cornea
Alongside that, if the keratoconus is caught early or hasn't progressed so much that the vision is very poor, it's possible to perform a procedure called corneal collagen crosslinking, which strengthens the cornea and reduces the chance of ongoing and continuous progressive corneal distortion over the years.
Crosslinking is a relatively new procedure, so we don't have very long-term data about it, however, the early to intermediate data is promising.
It's important to add that corneal collagen crosslinking is designed to improve the strength and stability of the cornea and prevent ongoing progression and distortion. It's not a treatment that reverses the changes that have already taken place, and it's not a procedure that is in any way designed to improve vision. It's a holding and stabilizing procedure.
I invite you to contact my practice by calling the phone number provided. We can start the process of consulting and determining your suitability for the interventions that we can provide, and hopefully get you to a point where you're achieving your outcomes and enjoying life without cataract and without needing your glasses and contact lenses.
Share This Story, Choose Your Platform!
ABOUT THE EXPERT
Prof Mohammed Muhtaseb, FRCOphth
Consultant Cornea, Cataract and Refractive Surgeon
iLase is the private practice of Consultant Ophthalmic Surgeon, Prof Mohammed Muhtaseb. Based in South Wales, he is one of the very few ophthalmologists working in the UK who is a fellowship-trained specialist in Cornea, Cataract and Refractive Surgery. He holds full specialist registration with the General Medical Council and was appointed as a Consultant in the NHS in 2006.