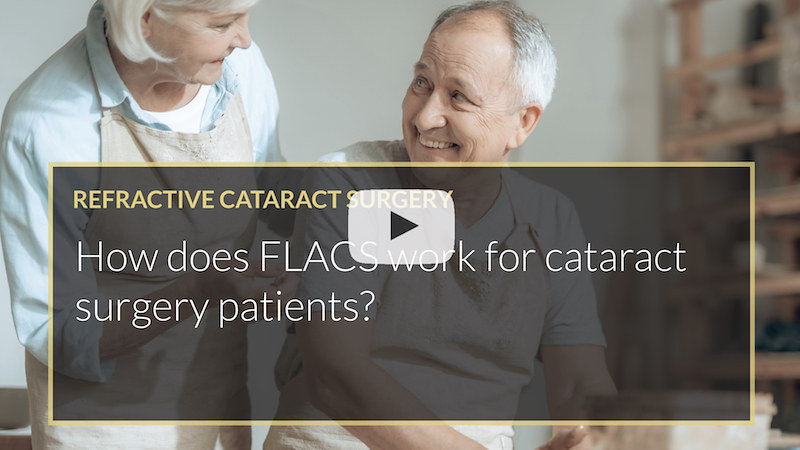 IN THIS VIDEO PROF MOHAMMED MUHTASEB DISCUSSES HOW FLACS WORKS
How does FLACS work for cataract surgery patients?
Femtosecond laser-assisted cataract surgery, also known as FLACS, is a slight variant on standard cataract or refractive lens exchange surgery. A femtosecond laser is used to perform one, two or three stages of the cataract extraction procedure.
How we use the femtosecond laser
The femtosecond laser can help to make the openings through the side of the cornea into the eye or the corneal incisions. We use it to create the circular opening on the front surface of the lens capsule, which is known as the capsulorhexis and which allows the surgeon access to the cataract or natural crystalline lens of the eye within the lens capsule. With the femtosecond laser, we can begin the process of breaking up the cataract into small pieces, ready for it to be removed by suction from inside the eye.
Discover the number one mistake patients make when choosing cataract surgery
Unfortunately, most people only find this out after having cataract surgery. The information in this Wales Cataract Guide could save you frustration and worry. Simply click the button below to give us your email and we'll send you this life changing guide.
Who is suitable for this procedure?
Femtosecond laser-assisted cataract surgery has several potential appealing aspects to implementation as part of the cataract surgical procedure. It is suitable for patients with absolute perfect, reproducible production of the capsulorhexis and with absolutely perfect lens centration.
What are the advantages?
The advantages of using the femtosecond laser to perform some of the steps, particularly the capsulorhexis, is if we use premium lens implants, such as multifocal lenses, toric lenses, and multifocal toric lenses. There may be some advantages also to using the femtosecond laser to start the process of breaking up the cataract if cataracts are particularly thick or dense.
While it's a procedure that is recommended when suitable for certain selected patients, there are times and applications where its applicability would benefit certain categories of patients.
I invite you to book a consultation in order to determine your suitability for refractive cataract surgery, or refractive lens exchange. It's the only way to determine your suitability for these procedures and to have an in-depth discussion regarding the risks and benefits of each of them. I look forward to seeing you there and taking you through the journey to achieving your desired post-operative outcome.
Share This Story, Choose Your Platform!
ABOUT THE EXPERT
Prof Mohammed Muhtaseb, FRCOphth
Consultant Cornea, Cataract and Refractive Surgeon
iLase is the private practice of Consultant Ophthalmic Surgeon, Prof Mohammed Muhtaseb. Based in South Wales, he is one of the very few ophthalmologists working in the UK who is a fellowship-trained specialist in Cornea, Cataract and Refractive Surgery. He holds full specialist registration with the General Medical Council and was appointed as a Consultant in the NHS in 2006.