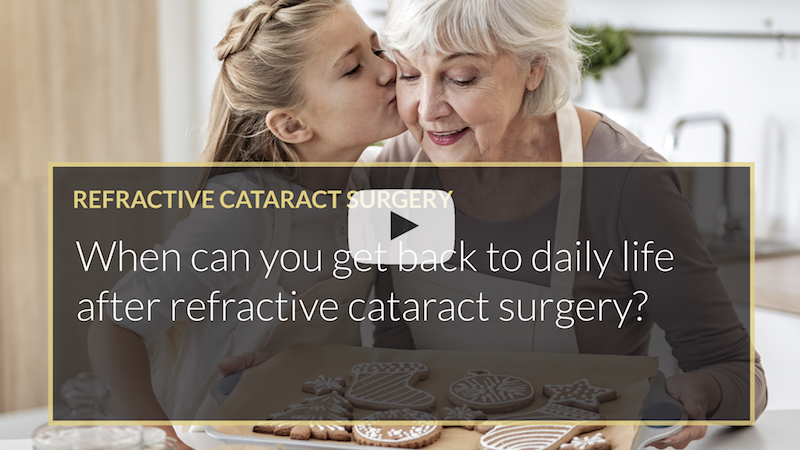 IN THIS VIDEO PROF MOHAMMED MUHTASEB EXPLAINS THE RECOVERY PROCESSES AND REVEALS WHEN YOU CAN GET BACK TO DAILY LIFE AFTER HAVING REFRACTIVE CATARACT SURGERY
When can you get back to daily life after refractive cataract surgery?
Returning to normal life is a very important aspect of preoperative planning, and patients often ask when they can get back to driving and performing their normal daily activities. No one answer applies to all patients, but on average, people find that their vision is improving very soon after the cataract surgery has been completed, usually within a small number of days.
It's quite common for the vision to be a little blurry on the day of surgery and then improve day by day. People find that they're back to driving within days or the first two or three weeks. However, it's very important to make sure that patients can achieve the legal standard for driving of reading a number plate to the specified distance. We always say that they have to check with their insurance company.
Don't let post-COVID cataract queues delay you from getting the treatment you need. Save your spot now with a virtual appointment
Meet online or over the phone with surgeon Prof Muhtaseb, and get a clear answer on your cataract surgery options from the comfort of your home. You'll also discover the little known possibility of fixing your reading and/or distance vision at the same as you fix your cataracts. Click the button below now to book your video or telephone appointment.
In terms of getting back to normal activities, it's usually quite fast, within a few days. People often want to know when they can go back to the gym and do activities like swimming and playing golf. I often like patients to avoid chlorinated water and performing tasks that could get dust or dirt in their eyes for two, three weeks after the surgery. However, they're able to walk to the shops, do their shopping, read, as soon as they feel ready.
I've had certain patients go back to work within two or three days. Other people who, for example, have had very dense cataracts that require a little bit more energy to remove them from the eye, can take a few days extra to recover. It's not a recovery that takes a very long period unless there is something else going on in the eye that predisposes to swelling or inflammation in the eye, which can take a little bit longer to recover.
I invite you to book a consultation to determine your suitability for refractive cataract surgery or refractive lens exchange. It's the only way to determine your suitability for these procedures and to have an in-depth discussion regarding the risks and benefits of each of them. I look forward to seeing you there and taking you through the journey to achieving your desired postoperative outcome.
Share This Story, Choose Your Platform!
ABOUT THE EXPERT
Prof Mohammed Muhtaseb, FRCOphth
Consultant Cornea, Cataract and Refractive Surgeon
iLase is the private practice of Consultant Ophthalmic Surgeon, Prof Mohammed Muhtaseb. Based in South Wales, he is one of the very few ophthalmologists working in the UK who is a fellowship-trained specialist in Cornea, Cataract and Refractive Surgery. He holds full specialist registration with the General Medical Council and was appointed as a Consultant in the NHS in 2006.