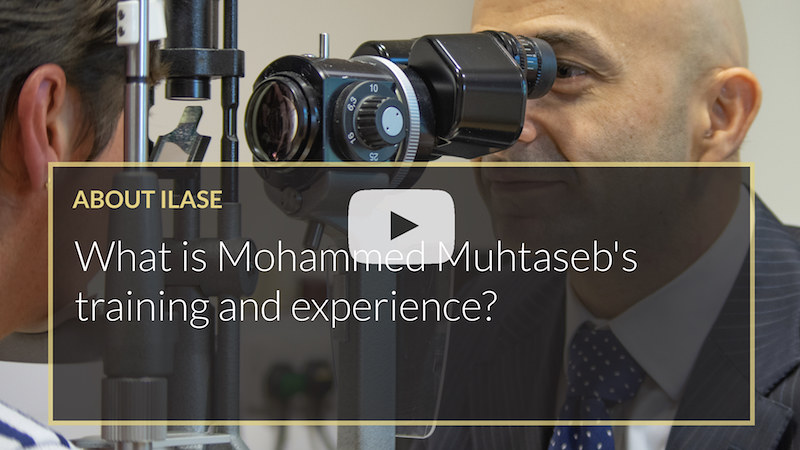 IN THIS VIDEO PROF MOHAMMED MUHTASEB DISCUSSES HIS TRAINING AND EXPERIENCE
School, university & ophthalmic training
In terms of my training and experience, I went to university at the University of London. My ophthalmic training was all in the South of England, initially in the Wessex Deanery and then in the South Thames Deanery.
Fellowships
I finished my ophthalmic training and performed a corneal surgery fellowship at the Moorfields Outreach Center at St George's Hospital. Upon completion, I undertook a further fellowship in medical ophthalmology and neuro-ophthalmology, which relates to conditions such as uveitis and the links between the eye and the brain. That was at St Thomas' Hospital and King's College Hospital in London.
Experience as a cataract surgeon
After I finished my year of refractive surgical fellowship training in the Island of Crete, I came to the UK once again to take up my post as a cornea and cataract surgeon in South Wales in 2006. I've been developing corneal services and cataract services since that time…
Take the first step to understand your unique cataract surgery options
Most people don't get given information about all the options they actually have surrounding cataract surgery. Did you know it is not only possible to fix your cataracts but you can often fix your reading and/or distance vision at the same time? Click the button below to request a personal consultation and get clear on all of your options.
I was appointed as a visiting professor of cornea cataract and refractive surgery at the University of South Wales just over two years ago now, and have continued with my clinical research and training alongside my clinical practice.
Volumes of cataract surgery & treating complex cataract cases
The volumes of cataract surgery that we perform across the NHS and privately is really substantial. I'm very pleased to take referrals from colleagues both in my NHS practice and my private practice for patients who have more complex and challenging cataract cases and for those who have corneal problems that make the planning of surgery, particularly in relation to toric lens implants, more challenging.
I've been in the field of ophthalmology since 1997 and have enjoyed every minute of it without exception.
I took my consultant post in 2006 as a corneal transplant surgeon and cataract surgeon, have been developing services since that time. I've performed thousands upon thousands of procedures for cataract patients, including complex cataract surgery and taking referrals from colleagues.
Professor at University of South Wales & training junior doctors
I'm also a visiting professor of cornea cataract and refractive surgery at the University of South Wales, which is a position I'm very proud to hold. I am very heavily involved in the training of junior doctors and in particular, training doctors to think thoroughly and plan their cataract surgical procedures so that the best outcomes are achieved for patients.
I'm training junior doctors to use toric lenses and to think very carefully about prep for astigmatism and improving the visual outcomes for patients. One of the parts of my role, both in the NHS and my private practice that I enjoy a great deal is taking referrals for complex and challenging cataract patients. I discuss the particular aspects of their care that are challenging, how we plan to overcome those, and then implementing the plan of management to achieve the best outcomes for those patients.
I invite you to book a consultation to determine your suitability for refractive cataract surgery or refractive lens exchange. It's the only way to determine your suitability for these procedures and to have an in-depth discussion regarding the risks and benefits of each of them. I look forward to seeing you there and taking you through the journey to achieving your desired postoperative outcome.
Share This Story, Choose Your Platform!
ABOUT THE EXPERT
Prof Mohammed Muhtaseb, FRCOphth
Consultant Cornea, Cataract and Refractive Surgeon
iLase is the private practice of Consultant Ophthalmic Surgeon, Prof Mohammed Muhtaseb. Based in South Wales, he is one of the very few ophthalmologists working in the UK who is a fellowship-trained specialist in Cornea, Cataract and Refractive Surgery. He holds full specialist registration with the General Medical Council and was appointed as a Consultant in the NHS in 2006.